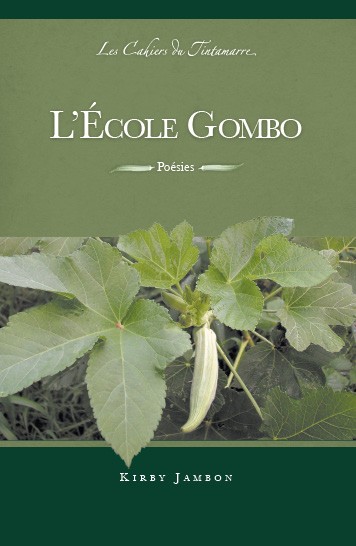 L'École Gombo : Poésies. Kirby Jambon.
ISBN: 0-9754244-6-7. $15.50.
To order this book, contact the bookstore of Centenary College:
by email at: bookstor@centenary.edu
by telephone at (318) 869-5278,
by fax at(318) 869-5295
or buy this book at:

L'École Gombo : Poésies. Kirby Jambon.
Kirby Jambon's poetry is like a well-used iron cauldron in which countless generations of Louisianais have simmered a spicy roux, seasoned with ingredients from across the world: Senegal, the Antilles, France, Spain, Acadia, and even the indigenous peoples of the United States have contributed to this heady concoction.This poetry captures the essence of what it means to be Cadien and to live within the context of the Francophone movement in contemporary Louisiana. Jambon's poetic language, rooted in a Louisiana culture as old as Louisiana itself, speaks to those who are just discovering their French-speaking heritage.
Kirby Jambon has used linguistic ingredients brought to Louisiana by all the different peoples who have called our state their home. Using cultural tools received as a legacy, Jambon has brewed up a Gombo whose poetic language explodes both musically and seductively.
David Cheramie, Ph.D., Executive Director of CODOFIL (Council for the development of French in Louisiana) and author of Lait à mère.