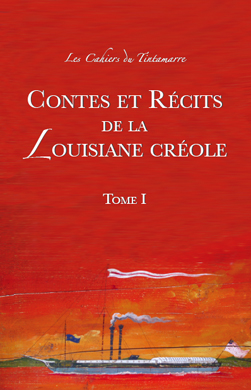 Contes et Récits de la Louisiane créole, Tome I. $15.50.
ISBN: 0-9754244-5-9.
To order this book, contact the bookstore of Centenary College:
by email at bookstor@centenary.edu
by telephone at (318) 869-5278,
by fax at(318) 869-5295
or buy this book at:

Contes et Récits de la Louisiane créole, Tome I. Text edited by Ashley Owens.
Louisiana, a land stricken by disaster: since 2005 our state has suffered overwhelming catastrophe and loss. Many wonder if the land of Cajun and Creole culture will ever recover; we all know it will not be soon. The human, cultural and ecological loss caused by hurricanes Katrina and Rita weigh heavily upon those among us who love Louisiana and give us reason to remember those generations of Louisianians who came before us and loved... and lost their own Louisiana. The short fiction in this anthology tells the stories of myriad Frenchmen who sought a home on the American frontier, of native peoples who faced unyielding invaders, of the old Creole woman honoring her ancestors on All-Saints Day, of Petite Rose, doomed to an arranged marriage—these pages offer an endless parade of lost loves swallowed up by fearless Time. It remains to be seen to what extent Louisiana is condemned to tragedy, like C. C. Théard's crushed protagonist who, her face in her hands, gazes into the past.